WWII Battle Tanks: T-34 vs. Tiger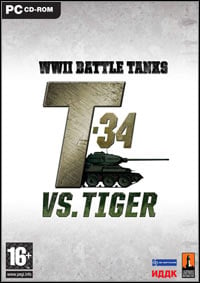 WWII Battle Tanks: T-34 vs. Tiger | PC
WWII Battle Tanks: T-34 vs. Tiger release date for PC:

game language:
English
16 November 2007 | Worldwide
Game mode: single / multiplayer , multiplayer mode: local network / Internet
0 Game score 8.5 / 10 calculated out of 391 players' votes.
Expectations before the premiere: 7.5 / 10 calculated out of 133 players' votes.
"WWII Battle Tanks: T-34 vs. Tiger" tells the story of the great triumph of the Soviet Army during the summer campaign of 1944. The Soviet Army had won the battle near Kursk, and since that day, German tank forces were retreating. "Operation Bagration" in 1944 was one of the most significant Russian campaigns during the struggle of Soviet and German tanks in Belorussia.
The player will be able to experience "Operation Bagration" in two playable campaigns – a Russian campaign and a German campaign, where he can take control over the Russian T-34 or, respectively, the German Tiger.
The player will be fighting in realistic locations, modeled after the Belorussian landscape of the early 20th century, recreated from hundreds of reference photos and maps. Additionally, the game will feature a realistic combat environment, including infantry, cars, armored personnel-carriers, artillery, aircraft.
The most detailed technical documents available were used to model realistic physics and tank behavior. To model realistic tank movements, the propulsion systems, transmissions and gear-ratios, tank masses, friction and suspensions were taken into consideration. For a realistic gunnery model, the mass of the shell, gravity, and the initial speed of the various ammunition types, as well as the various gunner's sights available, were taken into consideration.
Realistic effects, such as explosions, smoke, destruction of vehicles and buildings are modeled. Tanks (and other objects) can be shot or rammed, displaying different levels of damage. The player can observe the battlefield from both realistically modeled 3D or virtual stations, as well as from third person views and various camera angles.
Napalm Engine technology allows for stunning graphics effects, such as dynamic shadows, self shading, bump mapping, specular maps, glow and bloom effects. New technologies used make it possible to stretch the map-size to over 40 square kilometers and set up thousands of trees of the highest level of detail.
Key features:
• Storyline based on the Soviet Army "Bagration" operation in Belorussia in 1944;
• Large scale of available missions;
• Realistic handling and physics;
• Realistic locations depicting Belorussian landscape of the early 20th century;
• Detailed animation of weapons, vehicles and infantry due to NAPALM Engine;
• Realistic combat environments of that time period, including infantry, cars, artillery, aircraft, armored personnel-carriers;
• Playable, detailed 3D crew stations for commander, driver and gunner;
• Non-Linear Mission Structure;
• Various external Views;
• Realistic effects: explosions, smoke, destroyable units;
• Both Internet and LAN Multiplayer Options;
Similar games:
PEGI Rating