Grand Theft Auto Advance
GTA Advance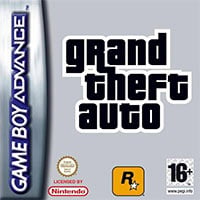 Grand Theft Auto Advance | GBA
Grand Theft Auto Advance release date for GBA:
game language:
English
19 October 2004 | Worldwide
22 October 2004 | Europe
19 October 2004 | USA
Game mode: single player
0 Game score 5.7 / 10 calculated out of 520 players' votes.
It was supposed to be the last job you and Vinnie would do for the mob. After this, you'd both have enough money to escape this vicious circle, and Liberty City, for good. Then Vinnie's getaway car went up in a ball of flame along with all the cash. Suddenly every cop in the city is chasing you down. You'll get out of Liberty City all right, but not before you find Vinnie's murderers and turn the tables on whomever it is that's out to get you.
Open-ended gameplay that provides hours of portable entertainment.
An all-new, revenge-driven storyline that puts you on the tail of your mentor's murderers.
Explore and exploit a sprawling, handheld Liberty City.
PEGI Rating