Stronghold: Crusader
A sequel to Stronghold, an economic strategy game set in the Middle Ages and developed by FireFly Studios in 2001. This time we travel to the Middle East of the crusades period in the late 11th and the early 12th century. The game mechanics are not much different from what fans of the series know and love. The game's biggest innovation is the setting, albeit it features also some minor gameplay adjustment, such as dealing with limited water supplies. The developers offered four campaigns, in which you can lead the crusader army as Richard the Lionheart or command the Arabic soldiers as Saladin. The already wide spectrum of military units was expanded even further, featuring several units unique for each side of the conflict. In addition, the game offers a wider selection of clever siege weapons and defensive measures to be used in battle, a functional scenario editor, and a new Skirmish Mode.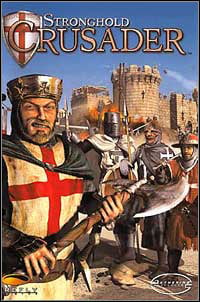 Stronghold: Crusader | PC
Stronghold: Crusader release date for PC:
game language:
English
24 September 2002 | Worldwide
24 September 2002 | Europe
Game mode: single / multiplayer , multiplayer mode: local network / Internet, players: 1 - 8 , size: 1 CD
0 Game score 8.6 / 10 calculated out of 7323 players' votes.
Stronghold: Crusader is a sequel to the brilliant strategy game, Stronghold, which takes us to the Middle East in the period of the crusades (11th-12th century). Much like its predecessor, Stronghold: Crusader is sometimes referred to as a "stronghold simulator". The player can build a stronghold from scratch, ensure the welfare of his or her subordinates and soldiers, push back fierce attacks, and even conquer enemy castles. Apart from a different setting, Crusader offers four new campaigns, fought on the European side led by Richard Lionheart and on the side of Arabic warriors led by Saladin. There are also new units, such as mounted archers, Teutonic knights, grenadiers and mobile ballistas, as well as a new strategic element – water, or rather the lack thereof.
Over 25 combat units.
All kinds of siege engines: towers, ballistas, catapults and trebuchets.
Rich arsenal of defensive elements, from different kinds of walls and towers to pitfalls, moats and boiling oil.
New game mode – skirmish.
Scenario editor.
Multiplayer mode via LAN and the Internet for up to 8 players.
PEGI Rating
System requirements
Recommended: Pentium III 500MHz, 128MB RAM, graphic card