Ultima Online
One of the first successful massive multiplayer online role-playing games. The story takes place in the universe brought to life in 1980 with the advent of the Ultima series. Ultima Online was developed by Origin Systems. The game world is a fantasy realm, bearing some resemblance to medieval Europe, called Britannia. It takes place after the events of the first installment of the series. After the fearsome wizard Mondain was defeated, his Gem of Immortality was destroyed. This led to the creation of many parallel worlds, represented in-game as individual servers. Ultima Online allows us to create a character of predefined profession (warrior, merchant or mage) and participate in the life of online community consisting of thousands of players. The players can complete various quests, fight monsters and develop their character. The world is being constantly watched by the so-called Game Masters who make sure that the players will be never bored.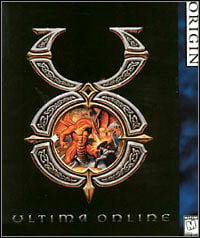 Ultima Online | PC
Ultima Online release date for PC:
game language:
English
29 April 1997 | Worldwide
Game mode: massive online multiplayer , multiplayer mode: Internet
0 Game score 9.0 / 10 calculated out of 373 players' votes.
Ultima Online is the first full-fledged MMORPG success of which inspired the developers of the bestseller EverQuest. The game lets you create your very own hero and become a part of a virtual society of thousands of players. It is important to note that the game requires paying a monthly subscription fee. The project is managed by the so-called Game Master who solve all problems related to the game.
The storyline is set in a fantasy world called Britannia, which atmosphere slightly resembles medieval Western Europe, shortly after the events of Ultima I: The First Age of Darkness. The fearsome warlock, Mondain, had been defeated and his Gem of Immortality was destroyed. This situation caused countless number of parallel worlds to emerge that function as servers in Ultima Online.
The developers took care of clear graphics, comfortable interface and complex environment that offers an incredible level of interactivness. The game is complemented by perfectly matched soundtrack.
Similar games:
Age Rating
age requirements: 12+
System requirements
Recommended: Pentium II 400 MHz, 256 MB RAM, graphic card 16 MB (Riva TNT or better), 1.5 GB HDD, Windows 98/XP