Fallout
A classic cRPG developed by Black Isle Studios. The action of Fallout is set in a post-apocalyptic world of the future. In 2077, the struggle for oil deposits between the United States and China led to an outbreak of a war, which eventually ended with both sides using their nuclear arsenal. However, before the missiles came down some groups of American citizens had managed to find refuge in commercial shelters, called the Vaults. 84 years later, a malfunction occurs in Vault 13. The player-controlled protagonist is sent to the surface with the mission to find a new water chip, necessary to secure the Vault's water supply. The gameplay mechanics are inspired by the GURPS, with extensive character progression options and tactical turn-based combat. The visual style of Fallout clearly references science fiction culture from the 50s.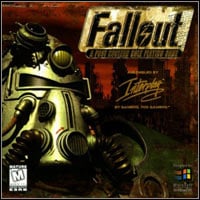 Fallout | PC
Fallout release date for PC:
game language:
English
30 September 1997 | Worldwide
Game mode: single player , size: 1CD
0 Game score 9.0 / 10 calculated out of 3865 players' votes.
Fallout for PC / Windows is an unofficial sequel to Wasteland issued back in 1987. The action is set in a world destroyed by a huge atomic war. The entire civilization was almost utterly turned to dust, and the survivors are forced to live in a completely ruined world full of mutants and dangerous radiation. The only safe places, where bigger settlements and societies are being created, are basements, caves, bunkers and the like. In one of such places, Vault 13, the protagonist has lived his life. The entire society of the Vault lived in peace until the chip responsible for the production of fresh water had broken. The continued existence of every inhabitant had become endangered, therefore we were chosen to go to the surface and find a new chip. An incredible travel through post-apocalyptic worlds awaits us.
More than 50 mini-quests.
Turn-based combat system allowing for precise striking (i.e. at vital areas of the body).
Many kinds of weapons and useful gadgets.
Numerous statistics representing our character and the skills that are possible to acquire and develop.
PEGI Rating
System requirements
Recommended: Pentium 166MHz, 16MB RAM