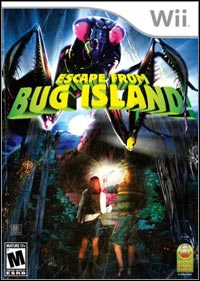 Escape From Bug Island | Wii
Escape From Bug Island release date for Wii:

game language:
English
24 July 2007 | Worldwide
26 October 2007 | Europe PAL
As Ray, you wake up alone in a deep and fog covered forest. Your friends are nowhere to be found. It was supposed to be a cozy night camping in the woods…until strange creatures rose from the darkness… You must find your friends, survive the horrific forest and get off the island in one piece.
* Obstacles – Use the Wii Remote and Nunchuk™ to overcome obstacles scattered throughout the island! Swinging bridges, pitfalls, falling rocks and insect nests.
* Bugs – Squash, smash and stump giant bugs and eerie mutants using the Wii Remote.
* Survive – Exterminate hundreds of insects by mastering dozens of weapons with different attack techniques! Rifles, grenades, sickles, rocks and much more…
* Time travel – Enter the "Cave of Time" and travel back through time to save the lives of your friends.
* Creepy environment – Explore the devilish island, survive the creatures in a world only visible through your flashlight.
* Secrets – Discover weapons and unlock special items to help you in your quest for survival.
PEGI Rating