StarCraft
A world-famous real-time strategy by the legendary developer Blizzard Entertainment. Set in a science fiction world, the game features dynamic battles between three enemy fractions – the descendants of humans known as Terrans, the enigmatic Protoss, and the insectoid Zerg. StarCraft offers 30 extensive missions divided into three different single player campaigns. Each of the available races is distinguished by unique units, technologies, buildings etc., giving players the opportunity to play in three vastly different styles. The single player mode serves as an introduction to the extensive multiplayer for up to eight players, which has earned StarCraft eternal fame and gathered a huge e-sport community. Additionally, the title offers level and scenario editor allowing for the creation of original levels, units, and even whole campaigns.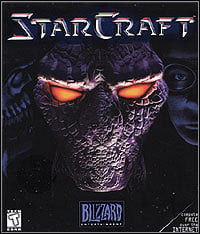 StarCraft | PC
StarCraft release date for PC:
game language:
English
28 March 1998 | Worldwide
28 March 1998 | Europe
Game mode: single / multiplayer , multiplayer mode: local network / Internet, players: 1 - 8
0 Game score 8.85 / 10 calculated out of 2303 players' votes.
Plot
Once the spaceship malfunctions, the descendants of human convicts are left alone at the edge of space – their mission was to find a solution to overpopulation. After years of fighting, and turbulent events, emerges The Confederacy of Man, which assumes control over the whole sector with a heavy hand. The moment of peace is shattered by the activity of a newly-established rebel group. Additionally, the neighbour planet is under attack and gets completely destroyed by enigmatic strangers called the Protoss. To make matters worse, the alien race Zerg joins the conflict – they infect and devour life on different planets. The galactic war is inevitable.
Gameplay
In StarCraft for PC / Windows the player is in control of one of three races – the Terran, the mysterious Protoss, and the hideous Zerg. Each of them possesses unique units, technologies, and abilities. As a leader, you have to cope with economy, strategy, along with tactical and skilful management of units.
30 various missions in three epic single player campaigns.
Controlling each of the three races with unique units, technologies, properties, and skills.
Immersive multiplayer up to eight players on LAN and Battle.net
Scenario and level editor allowing for modifying units and creating own campaigns.
PEGI Rating
System requirements
Recommended: Pentium 166 MHz, 32 MB RAM