Dance Dance Revolution MAX 2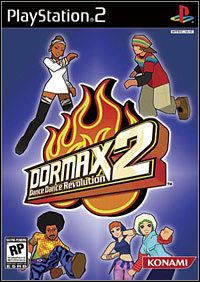 Dance Dance Revolution MAX 2 | PS2
Dance Dance Revolution MAX 2 release date for PS2:
game language:
English
15 November 2003 | Worldwide
15 November 2003 | Europe PAL
15 November 2003 | USA NTSC
Game mode: single / multiplayer
The dance floor kicks into overdrive with DDRMAX2 Dance Dance Revolution. Packed with a smash-hit lineup of licensed music, all-new songs, exclusive songs for the U.S. and cool game modes, everybody will be movin' and groovin' to the pulsating beats. The latest installment of this highly anticipated series takes the revolution to the masses.
- All-new exclusive songs, licensed songs and dance hits
- New game modes and graphical interface featuring music videos
- Customize dance steps in Edit mode and exercise in Work Out mode
- Links with previous games for special features
Age Rating
age requirements: everyone

Uses: dance pad