Ico
A third-person perspective action-adventure game developed by the Japanese developer Team Ico. The story tells about a young boy named Ico who was marked with an eternal curse. Due to that curse, he was born with mysterious horns on his head and, similarly to his predecessors, he is to be taken to a mysterious castle where he is going to be slain. While awaiting death, the boy notices a girl locked in a cage. The girl happens to be a princess – the daughter of the cruel queen that rules the castle. Ico decides to free the girl and their fates will from now on depend on the player who is tasked with helping them escape from the fortress. The game combines characteristics of an adventure game and a platformer. During the game player will face many puzzles, traps and merciless demons. What makes Ico exceptional is a strong focus on the development of emotional bond between the two protagonists who have no one to depend on but each other.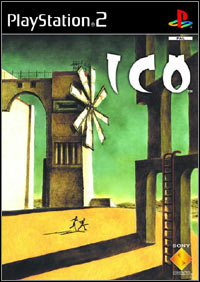 Ico | PS2
Ico release date for PS2:

game language:
English
25 September 2001 | Worldwide
20 March 2002 | Europe PAL
Game mode: single / multiplayer , multiplayer mode: split screen, players: 1-2
0 Game score 8.8 / 10 calculated out of 805 players' votes.
Classic hit released on PlayStation 2 which together with its spiritual successor – Shadow of the Colossus – creates one of the most original and best-reviewed series in the history of video games. Ico was released in September 2001, developed by a Japanese studio – Team Ico.
Story
In the game, the player controls a boy named Ico. Ico is marked with a mysterious curse due to which he is born with weird horns on his head. The ancient tradition of his village sentences the boy to a cruel fate – he is to be captured by a couple of riders and imprisoned in a dark and dangerous fortress where the only faith that awaits him is death. One day, Ico notices an imprisoned girl. She uses a language that he can't understand. It is revealed that the girl, named Yorda, is a princess, the daughter of the cruel queen that rules the castle. The protagonist decides to help Yorda. Together they began to fight for survival and to escape from the trap.
Gameplay
Ico is a third-person perspective action-adventure game. The objective of the game is to help the two escape from the castle filled with many traps and merciless demons. What makes the game exceptional is a strong emotional relationship between Ico and Yorda that develops as the game progress. The protagonist is taking care of the princess, protects her from monsters and saves her from falling into a precipice. When playing Ico, the player can feel what loneliness means and what it is like to be responsible for another being.
Similar games:
PEGI Rating