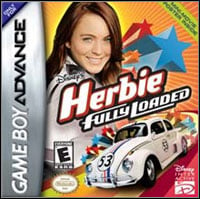 Herbie: Fully Loaded | GBA
Herbie: Fully Loaded release date for GBA:
game language:
English
12 July 2005 | Worldwide
12 July 2005 | Europe
12 July 2005 | USA
Based on Walt Disney Pictures' upcoming feature film HERBIE: FULLY LOADED starring Lindsay Lohan, the action-packed video game will thrust players into the high-octane world of stock car racing. The video game offers fans a chance to slip behind the wheel of one of the world's most beloved cars, Herbie the Love Bug, engages players in a 3D stock car racing game and includes images of Lindsay Lohan, the film's teenage star. The Herbie Fully Loaded game for GameBoy® Advance is being developed by Climax Group, Inc.
* A circuit-based, single-player, 3D racing game with fun power-ups and hazards
* Players control Herbie in a series of races against AI-controlled opponents
* Story Mode tells the story of the game and includes images of Lindsay Lohan and Herbie from the movie as a reward for player' progress
* Free replay of unlocked races will provide for variety in short bursts of play and allow practice on harder tracks
* Animations of Herbie and a real-time meter will show his mood according to player results, providing rewards and encouraging further play
* Herbie will have a variety of special racing moves to match his personality
Similar games:
PEGI Rating