The Last Guardian
Third-person action adventure game created by the ex-members of Team Ico, led by Fumito Ueda. Previously, the studio had made their name known by giving us two of the most original and highest ranking titles ever to be released on PlayStation 2: Shadow of the Colossus and Ico. Their new game retains similar artwork style and equally unique atmosphere. You play as a young boy trying to escape the guards pursuing him. However, it is not him, but a giant, griffin-like creature named Trico, who is the central character in this story. The little protagonist is able to climb, jump, and squeeze through holes between rocks, but in some cases he needs help from the griffin, who can remove larger obstacles or carry the boy into seemingly inaccessible places. The authors put much emphasis on the character's interactions with Trico and the creature's artificial intelligence, as he has his own individual character and reacts differently depending on the situation.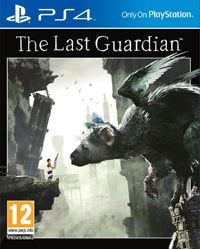 The Last Guardian | PS4
The Last Guardian release date for PS4:

game language:
English
06 December 2016 | Worldwide
07 December 2016 | Europe PAL
Game mode: single player
0 Game score 7.905 / 10 calculated out of 643 players' votes.
Expectations before the premiere: 6.9 / 10 calculated out of 742 players' votes.
The Last Guardian (previously known as Project Trico) is another work from Team Ico, the developers of Ico and Shadow of the Collossus. This time the game is developed exclusively for PlayStation 4.
The Last Guardian lets you play as a young boy, it is, however, a giant, eagle-like creature accompanying the boy, on which the events focus. While the little protagonist, controlled by the player, is able to climb platforms, squeeze through holes, and make short jumps, there are numerous cases when he has to rely on his companion – either when it comes to moving an obstacle or reaching seemingly inaccessible places. Interestingly, the creature is with no doubt intelligent, has its own, unique character traits, likes and dislikes that have to be taken into account. We can look after the creature by feed it, or remove arrows from its body, when it gets wounded. Furthermore, the creature may react differently, depending on where we touch it.
The Last Guardian stands out with its unique level design, whereas the environment itself is generated by a modern in-house game engine. Much effort was put into carefully implementing movements and appearance of the protagonist's flying friend (e.g. feathers on its wings move in the wind), as well as preparing realistic physics simulation.
Similar games:
PEGI Rating