Uncharted 2: Among Thieves
The sequel to the very enthusiastically received action-adventure game developed by Naughty Dog and released in 2007 on the consoles of Sony Company. In Uncharted 2, once again you play as the adventurer Nathan Drake. The story focuses on search for a powerful artifact which has the power to change the fate of the world. During the game, you will visit various exotic locations, accompanied by both the characters known from the first installment as well as some completely new faces. Since a ruthless warlord and his private army follow the trail of the artifact as well, the game is full of dynamic action elements and battles. As opposed to the previous game, the developers decided to make the gameplay more varied by increasing the number of Nathan's abilities and available weapons. The puzzle system has changed as well, to solve many puzzles a cooperation with your allies will be required. The game is once again presented in a very spectacular, cinematic style and filled with witty cutscenes.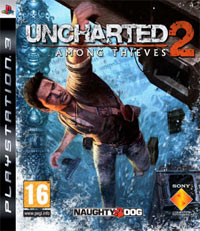 Uncharted 2: Among Thieves | PS3
Uncharted 2: Among Thieves release date for PS3:

game language:
English
13 October 2009 | Worldwide
14 October 2009 | Europe PAL
Game mode: single / multiplayer , multiplayer mode: Internet, players: 1-10 , size: 1 BD
0 Game score 9.315 / 10 calculated out of 8800 players' votes.
Expectations before the premiere: 8.2 / 10 calculated out of 1027 players' votes.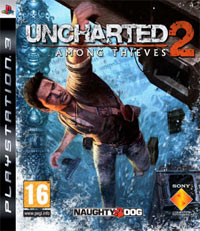 Uncharted 2: Among Thieves Remastered | PS4
Uncharted 2: Among Thieves Remastered release date for PS4:

game language:
English
16 November 2016 | Worldwide
Game mode: single player
Game score 9.05 / 10 calculated out of 187 players' votes.
Uncharted 2: Among Thieves is another continuation of the highly acclaimed game released in 2007, which told the tale of Nathan Drake, an adventurer and treasure hunter. Both games were developed by Naughty Dog, the company that created some well-known franchises and interesting characters (Crash Bandicoot, Jak & Daxter: The Precursor Legacy).
Story
As usually, Nathan Drake gets himself into serious trouble, this time thanks to his old buddy Harry, who also introduces him to Chloe, a treasure huntress. The group follows the trail of a powerful artifact which can change the fate of the whole world. The mysterious stone is also targeted by ruthless thugs. Together with a group of old (among others, Sullivan and Elena, known from the original game, make a return) and new (Tenzin) characters you will visit many exotic locations, like Nepal, Tibet and the Himalaya).
Gameplay
The gameplay in Uncharted 2: Among Thieves is similar to its predecessor. However, the developers decided to make it more varied and dynamic. The game mostly consists of two interweaving gameplay elements – action sequences and climbing combined with riddle solving. In this installment both of these elements were connected in a way, as the main protagonist can, for example, shoot while hanging from an edge.
The combat was made more spectacular thanks to new options. Nathan can use shields and explosive gas bottles or throw enemies from ledges. Many new weapons were added – a better shotgun, rifles, and grenade launchers. Enemy class system was added as well. The opponents are now divided into light, medium and heavy armored. The latter cannot be knocked out with a melee attack.
At many points of the game, you are accompanied by other characters (sometimes you will travel with as many as three) who will help you in combat. The riddle system has been changed as well. The journal is back, but this time you must search through it on your own to find valuable information and clues. When solving riddles, you will often cooperate with your allies, activating various mechanisms together.
Game modes
Online multiplayer is a completely new feature added to Uncharted 2: Among Thieves. The developers created a cooperative mode in which up to three players can participate. Together they will complete various scenarios related to the storyline of the game. Additionally, you can face other players in several competitive modes. In addition to the classic Deathmatch, you can, for example, play in Plunder mode in which you must steal a treasure and deliver it to your base.
Technology
Similarly to the first installment of the series, the graphic design of Uncharted 2: Among Thieves is very impressive. The developers made use of basically all the power of PlayStation 3. Thanks to that, during the game you can watch very detailed locations and nice character models. The game presents a very cinematic experience, filled with dynamic action scenes (such as an escape from an armed helicopter) and cutscenes.
PEGI Rating