Spore Creatures
An unusual simulator, in which your objective is to bring to life a perfectly functioning species of organisms, starting from the lowest step on the evolution ladder. The game is developed by the legendary studio Maxis, led by Will Wright – the man responsible for such cult series as SimCity and The Sims. Mechanics combine elements of many game genres and each stage of your organism's evolution offers a bit different quests and altered gameplay. Starting with the cell cycle and ending with a whole community, the game offers enormous scope of modification in regard to the appearance and other traits of your species. In later stages of evolution, the primitive organism gets a mouth, limbs, and other attributes that influence its ability to adapt and cope in various external conditions. With the game's progress, elements of competition with other species emerge and our, initially small, village becomes a huge metropolis with the newest technology.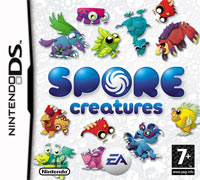 Spore | PC
Spore release date for PC:

game language:
English
05 September 2008 | Worldwide
Game mode: single player , size: 1 DVD
0 Game score 7.08 / 10 calculated out of 4058 players' votes.
Expectations before the premiere: 8.6 / 10 calculated out of 1001 players' votes.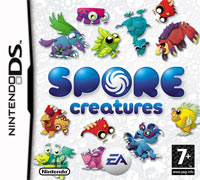 Spore Creatures | DS
Spore Creatures release date for DS:

game language:
English
03 September 2008 | Worldwide
05 September 2008 | Europe
Game mode: single player
Game score 6.8 / 10 calculated out of 58 players' votes.
Expectations before the premiere: 8.1 / 10 calculated out of 46 players' votes.
Spore Creatures for Nintendo DS is a remote edition of one of the most innovative PC productions. The game is developed by Will Wright who is the key player in the game industry. Wright is responsible for such series as Sim City and The Sims. Spore Creatures is very intuitive and offers loads of interesting options. Long story short, the title presents evolution of a whole civilisation – starting from little microorganisms and ending with space exploration. Initially, Spore was a PC exclusive, only later its conversion was announced.
Gameplay
Gameplay is divided into a few major stages and each of them plays equally important role. You begin at the lowest step of the evolution ladder – as an microorganism. At this level you consume other cells and at the same time avoid different viruses. After eating enough, you go to another stage in which you design your own form of life. Just like in The Sims, the editor features extensive options with which you can shape your creature's appearance. However, you need to take into consideration a lot of important factors so as the creature's body plan does not interfere with its further development.
The third stage consists in establishing a tribe and managing it. Creatures need to be equipped with right tools, take care of interaction development, and finally protect their goods from enemies. The player can use extensive editors that enable him to diligently design not only the general outlook of his village, but also looks of particular buildings. Another step is connected with further civilisation development. This involves establishing friendly relationships with other tribes. The last stage concerns mentioned space exploration.
Gameplay is extraordinarily open. Each stage and game style in general depend only on the player. The Nintendo DS version features of course less detailed visuals. However, the developer implemented interesting controls – the game utilises the touch screen of the handheld.
Similar games:
PEGI Rating