Pillars of Eternity Video Game Series
Video Games Encyclopedia by Gamepressure.com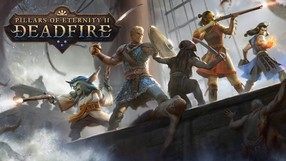 Pillars of Eternity II: Deadfire
RPG 2018
A sequel to the successful RPG developed by Obsidian Entertainment. The story told in Pillars of Eternity II: Deadfire follows the threads started in the first installment of the series. Eothas, the god of renewal and light, comes back to life and takes the form of a statue buried under the protagonistís keep. Although the stronghold gets destroyed, the main hero survives. From now on, he or she has to pursue a new goal, which is to hunt down Eothas as well as find answers to questions that can bring chaos to the world of gods and mortals. Pillars of Eternity II: Deadfire takes the player to the eponymous Deadfire archipelago in the far east. In this new region you can travel not only on foot, but also by ship. While controlling your party of characters, in the classic isometric view, you get to explore different locations, complete missions of varying importance and fight with opponents met on the way. Note that the world of Pillars of Eternity II: Deadfire lives a life of its own, and the choices you made in the first game have consequences here too. Some changes and improvements were made to the User Interface and dialogue system as well as the visuals, which now feature dynamic weather.
Pillars of Eternity: Complete Edition
RPG 29 August 2017
A complete edition of Pillars of Eternity, a popular PC role-playing game, for Xbox One and PlayStation 4. The original was developed by Obsidian Entertainment but the conversion was prepared by Paradox Arctic, one of the in-house studios of Paradox Interactive. Pillars of Eternity: Complete Edition offers all content released for the personal computers. It means that the players can experience the adventure from the vanilla game as well as its two expansions: Pillars of Eternity: The White March Part I and Pillars of Eternity: The White March Part II. Apart from that, the title was complemented with the most important updates of the core production. The gameplay itself remains unchanged, although the controls and the user interface were adjusted to work with gamepads. Complete Edition was released digitally and in retail, thanks to 505 Games.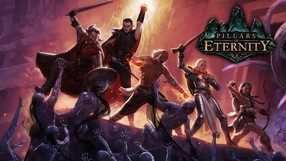 Pillars of Eternity
RPG 26 March 2015
Pillars of Eternity is a fantasy cRPG developed by Obsidian Entertainment with the support of the users of Kickstarter funding platform. The player assumes the role of a hero who, with the help of his or her companions must embark on a dangerous quest complete a series of perilous tasks. The gameplay of Pillars of Eternity is reminiscent of classic productions such as Baldur's Gate, Icewind Dale, and Planescape: Torment. The creators decided to utilize combat mechanics with an active pause system. The game features also a complex character development system, and a rich variety of weapons and gear for the characters can use.